Are you a health and wellness professional? Do you want to impact more people with your knowledge & experience? We've created a program to help you share your wisdom with the world…
Introducing our new Organixx Guest Contributor Program.
We're now accepting guest article contributions from a trusted outside health resource – our wholesale clients.
What's in It for You?
The opportunity to gain greater exposure by having your original article published on the Organixx website (organixx.com) with your byline and biography. The article will be shared with our large email list and/or on social media with our thousands of Facebook subscribers. The article will then live on our website with over 200K visitors a month and over 4 million page views per year.
How It Works:
#2. Submit your original, health-related, ready-to-publish article using this submission form.
An original article is one that is not published elsewhere on the web. If it was previously used in a printed newsletter or shared within an email, that is fine. Rewriting an existing article of yours so that it is considered new content by Google (90%+ original content) is also acceptable.
You must own the rights to any articles submitted, meaning they must have been created by you or for you.
We reserve the right to reject any article that is deemed not suitable for Organixx. In that case, the article will be returned, and you will retain full ownership of it.
#3. Articles should be a minimum of 800 words, and not exceed 3,000 words, excluding sources. Sources/references should be cited and provided.
Content must be informational and not self-promoting in any way. It may reference Organixx products but should not mention any other supplement brands. Only mention specific product names if the information is based on first-hand experience, pertains to the subject matter, and would be beneficial to the reader. For example, if you were discussing juicing, it would be fine (and helpful) to provide the names of good brands of juicers.
#4. Along with the article provide a high-quality digital headshot (jpeg or png) and a brief biography of between 100-200 words.
The bio may contain one link to either a website or social media page directly affiliated with you, the author.
#5. Submissions accepted for publication will be reviewed for accuracy and quality by our editorial review team.
If substantial edits are required it will be returned with comments for a re-write.
We reserve the right to edit the article for clarity, brevity, grammar, spelling, and for SEO optimization purposes. However, we will NOT substantially change the tone or intent of the content without first contacting you.
#6. We will advise you in advance of the article's publication date and give you the link (URL) to the published article.
If you have a business Facebook page or Instagram account, please provide us with the link(s) so that we can tag you when we post the article on our social media.
We also recommend that you publish a minimum of one post on your social media linking back to the published article.
If you have an email list, you may also wish to send out an email announcing the publication of the article and provide your audience the link to the article.
#7. Once accepted for publication the article belongs to Organixx (with attribution to you as the author).
You may republish/reuse the article elsewhere three (3) months after publication on organixx.com.
Please be aware that your article will appear on the Organixx website and will have a banner below it (and on desktop beside it) that link to various sales pages for Organixx products.
We reserve the right to take down (unpublish) the article from organixx.com at any time.
Choosing Your Topic
For guidance on topic selection, please refer to our INSPIRED Living library. Our health articles generally fall into one or more of the following INSPIRED categories:
Inflammation
Nutrition
Supplements
Physical Activity
Immune System/Immune Support
Rest
Emotions/Spirituality
Detoxification
It is strongly advised that you do a search of our health library BEFORE writing to ensure the same topic has not already been covered. A variation on a topic that has already been covered is acceptable as long as it provides new/additional/more in-depth information on the subject.
The best articles help people translate health theory and research into practice. Articles that provide # tips, steps, or ways to take action are usually popular. Write in a conversational style that is professional yet understandable to a health-savvy layperson.
We will select images from iStock to illustrate the concepts in your article. If you have images which are owned by you which pertain to the article, feel free to submit. Images should be in .jpg or .png format and have good resolution. (e.g., an image 280 x 420 pixels should have a resolution of at least 150 KB.) Larger file sizes are fine.
OPTIONAL: You are welcome to provide stock photo ID numbers from iStock that you feel would best work with your article. (You do not require an iStock subscription in order to browse images and view image numbers. See image below which shows where to find the iStock photo ID)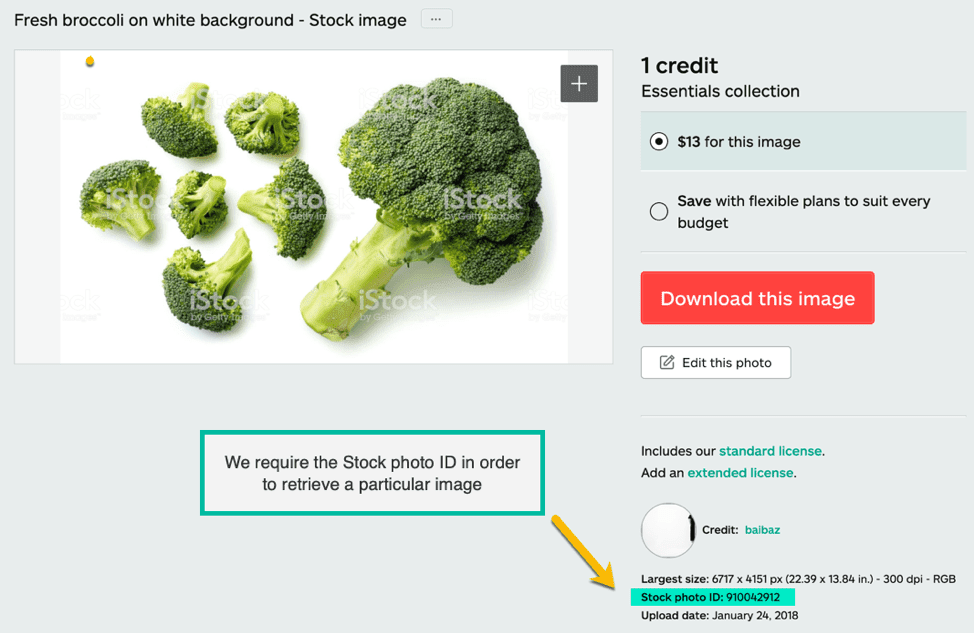 Ready to Submit an Article?
Once you're ready to submit your article, please complete this form which will prompt you for all the elements needed.

Thank you!