Doctor Formulated and Endorsed
Dr. Melissa Gallagher,
Naturopathic Physician
Doctor Formulated and Endorsed
For the past 12 years, Melissa's focus has been working with individuals addressing digestive disorders, hormone balance, detoxification therapies and primary and secondary lymphedema cases through lymphatic decongestive treatments. Most often, clients come to Melissa after they have sought traditional medical resources and have felt frustrated, overwhelmed or unheard.
Dr. Melissa's interest in natural health and wellness is personal. In 2003, Melissa suffered from a very severe case of Epstein Barr Virus that crippled her immune system and literally changed her life and view of preventative healthcare. After being diagnosed, Melissa switched career gears and she sought a Masters in Holistic Nutrition as well as a Doctorate of Naturopathy. Naturopathy (also known as naturopathic medicine or natural medicine) is an alternative medical system that focuses on natural remedies and the body's vitalistic ability to heal and maintain itself.
Organixx is Helping 80,000
Mothers & Children in 2022
Purchasing Organixx supplements does more than just support the health of you and your family... it also helps pregnant women, breastfeeding mothers and children under five who are at risk of malnutrition... right here in the U.S. and around the globe. We are proud to partner with Vitamin Angels, a global public health nutrition organization. This year alone, Organixx's financial support will allow Vitamin Angels to assist 80,000 children and mothers in 70 countries and all 50 states. Thank you for helping us do even more good in the world!
Our Story
Testimonials
Patricia P.
Coral Springs, FL
"I had digestive issues for months and tried numerous enzyme brands and never received relief. I trusted the high quality of Organixx and within a couple of weeks my digestive issues all but disappeared. I absolutely love the product. THANKS ORGANIXX!"
Sharon W.
Victoria, Australia
"Love my 7M immune support. It's very beneficial for supporting my immune system and keeping hashimoto's under control. Your natural products are the best. "
Sheila J.
Ecuador
"One of my favorite products is Ageless Brain, which I take every morning. As a 67-year old editor and musician, I have the intention to keep my brain in tip-top shape for many years to come, and Ageless Brain is part of my arsenal!"
Chris S.
Colorado, USA
"I start every day with Organixx Bone Broth mixed with my coffee. It gets me the protein I need to start my day. It helps keep healthy joints, smoother skin and boosts my immune system. Thanks!!! :-)"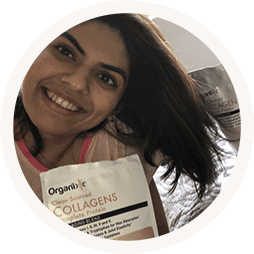 Kanika J.
Bahrain
"I LOVE LOVE LOVE THE ORGANIXX CLEAN SOURCED COLLAGEN!! It's an absolute game changer. After trying numerous collagen powders, I fell in love with this product. Thank you Organixx for giving me such a wholesome product."
Lisa H.
Bothwell, WA
"I love my Organixx Daily Detox in my fresh pressed juice, daily. It enhances another healthy habit! And, they taste great together:) "
Sunshine C.
Petaluma, CA
"I LOVE my E-Plexx! I love and appreciate the CALM, centered feeling I have when taking it daily. As a woman in peri menopause, who has suffered with PMS, this product is a game changer!!"
Catherine R.
Lawrence, KS
"I was struggling with sluggish energy, brain fog, and insomnia. I discovered your products and gave Nascent Iodine a try. I'm thrilled to report that I feel great and I look great! Thank you for your commitment to excellence!"
Margot M.
Prescott ON, Canada
"My husband Rod has been taking your supplements as a big part of his amazing recovery from Stage 4 colon cancer. Thanks for all you do!"
Christina L.
Palm Springs, CA
"My favorite organixx item is the MAGI essential oil because you can't find this combination of heavy hitters anywhere else in the world but here! I love Organixx because I trust it's purity. "
Ladawn C.
Stansbury Park, UT
"This totally helps me have a great sleep so I can regenerate!"
Mark G.
MN, USA
"I've been taking Multi-Vita-Maxx for 4 years. It's made with all organic ingredients that support my gut health. I know that I'm taking an excellent multivitamin and mineral supplement. It's the best!"
Raneil M.
Doral, FL
"Organixx went above and beyond in my estimation! I feel more vibrant, energetic, alert, and whole as a result of taking Multi-Vita-Maxx. I would recommend it to anyone who seeks a high quality multivitamin supplement for results they will feel and love."
Catherine T.
Honolulu, HI
"I absolutely love this OrganiGreens powder. It tastes good and always good to know its 33 times more potent than juicing. I have been using this for at least 3 years now."
Claire S.
Weatherly, PA
"I love, love, love the Probiotixx. I take it every night before bed and by the morning it has worked it's magic. My digestion has never been better. Thank you for making such a fantastic probiotic!"
Rick D.
Aptos, CA
"My favorite Organixx product is Probiotixx. I really believe the micro biome in your gut is one of the most important parts of the immune system and I trust the quality of Organixx."
Sharon C.
British Columbia, Canada
"My favourite Organixx product is Magi-Complex. It has decreased my back pain. It doesn't bother my stomach and I'm taking less pain medication. So pleased."
Candace W.
Minneapolis, MN
"This Clean Sourced Collagen has already reduced the deep lines in my forehead, my skin feels smoother, I feel great physically, I enjoy my collagen in smoothies, coffee and tea."
Jenny L.
Washoe Valley, NV
"One of my favorite Organixx products is 7M+. We are a family of 6 and I am happy to say this winter we stayed healthy! It is a great product to add to your immune boosting arsenal. I would definitely recommend this product!"
Grace P.
Kelowna, BC Canada
"I love all things Organixx, so it's really hard to just choose one favorite! Since taking the P3E indigestion and nausea at night are a thing of the past. Thank you Organixx! Your products have been life changing!"
Chris M.
Ponoka, Alberta, Canada
"20 years ago I was diagnosed with ME CFS. I have tried a wide variety of supplements, oils and so on. 3 years ago I tried Multi Vita Maxxx and I find that when I use it my energy is greatly improved and my brain fog lessens."
Leslie H.
San Rafael, CA
"I love the Organixx Probiotixx+ supplement so much! I have been taking it for the last 6 months. I am less gassy, my digestion is better, and I feel great. I am grateful to Organixx. Thank you."