Can You Use Collagen Serum And Hyaluronic Acid Together?
Collagen and hyaluronic acid are two of the most popular ingredients found in skin care products. So, can you use collagen serum and hyaluronic acid together?
Many people are curious to know if collagen and hyaluronic acid work well together. After all, they seem to have some overlapping functions when it comes to skincare.
With their unique properties, both collagen and hyaluronic acid supplements can restore important nutrients to your skin while addressing unwanted lines to give you smoother, younger-looking skin.
Do collagen and hyaluronic acid mix well?
Keep reading to find out what the experts say.
What is Hyaluronic Acid?
Hyaluronic acid is an ingredient that has been used in skincare products for years due to its hydrating and restorative properties.
It's a naturally occurring polysaccharide, which means it's composed of numerous simple sugars that are bound together, and it can hold up to 1,000 times its weight in water!
This makes hyaluronic acid incredibly hydrating and helpful in drawing moisture into the skin, creating a more youthful look while also providing a protective barrier from environmental damage.
Fun fact: not only beneficial for your skin but a hyaluronic acid supplement has also been used in joint health supplements as it aids in lubrication for fluid movement, helping us stay flexible and reduce joint discomfort associated with age.
What Makes Hyaluronic Acid a Wonder Ingredient?
Hyaluronic acid is a wonder ingredient for skin care, for multiple reasons. It's light yet highly effective in giving the skin moisture and helping to reduce inflammation and redness.
Its nature as a humectant helps it draw moisture from the environment into your skin, giving you that soft, hydrated texture all day long without feeling oily or greasy.
Hyaluronic acid molecules are a great antioxidant, which means that it works to protect our skin from environmental irritants and pollutants.
All of these attributes come together to make hyaluronic acid a wonder ingredient for your skin.
Who Can Use Hyaluronic Acid?
A hyaluronic acid product is a great way to get smooth, soft, and hydrated skin. The natural molecules of a hyaluronic acid treatment can be used by all genders, ages, and skin barrier.
Whether you have dry skin, oily skin, or combination skin, it's ideal for incorporating into your skincare routine. Everyone can use hyaluronic acid!
Aging Skin
Unfortunately, our youthful skin doesn't last forever. Aging skin can experience many different issues, such as wrinkles and sagging.
Fortunately, scientists have discovered a natural remedy that helps to reduce the signs of aging: hyaluronic acid.
It's a powerful ingredient found in many anti-aging products and is known for its ability to add moisture and elasticity to the skin.
Hyaluronic acid has been used to effectively treat age spots, uneven skin tone, dryness, and dullness in the skin.
Sensitive Skin
If you struggle with sensitive skin, hyaluronic acid helps stimulate skin regeneration, keeping your skin hydrated and radiant. This is important for those with a more sensitive type of skin as it keeps the skin from becoming dry and irritated.
As well as reducing inflammation, hyaluronic acid can help protect the skin from environmental toxins and other sensitivities that may have caused irritation in the past.
Acne-Prone Skin
Hyaluronic acid can be a great addition to your skincare routine if you have acne-prone skin. When applied topically, hyaluronic acid traps moisture in the skin which allows for the replenishment of needed nutrients that keep skin healthy and radiant.
Hyaluronic acid prevents free radical damage, which can make skin more prone to developing imperfections like pimples and blackheads. It also helps improve the healing process of acne breakouts and minimizes scarring.
Young Skin
Hyaluronic acid can be a real boon for young skin because it plays a key role in maintaining skin elasticity and firmness, retaining moisture, reducing inflammation, and boosting skin cell regeneration.
Hyaluronic acid strengthens the skin's protective barrier to ward off environmental damage, while deeply hydrating dry or rough patches. It works hard to keep your skin young, healthy, and dewy while combating premature skin aging.
What is Collagen?
Collagen is a vital structural protein found throughout the body. It plays an important role in the health and development of skin, ligaments, tendons, bones, and even blood vessels.
Unfortunately, collagen production tends to decline as we age, resulting in wrinkles, sagging, dry skin, and other signs of aging.
Why is Collagen So Important?
Collagen is vital! It has many functions from creating strong bones, joint health, muscle mass, healthy digestive and cardiovascular systems, and skin health, including skin elasticity and more.
What Are the Benefits Of Collagen?
Collagen helps support a strong immune system, healthy skin, strong bones, and joint flexibility.
Also, collagen provides essential amino acids which the body needs for proper metabolism, energy production, and tissue repair.
Best of all, it contains specific peptides which are necessary for heart health and digestion.
Skin Health
Collagen is found in abundance in our skin. Healthy collagen production can lead to suppleness, elasticity, wrinkle reduction, improved hydration, and fewer blemishes.
Not only does it minimize these visible signs, but it can also protect the skin from damage from external factors such as exposure to the sun's UV rays and free radicals.
Muscle & Bone Strength
Everyone wants to be strong and healthy, and collagen plays a large role in giving us the muscle and bone strength we need to reach our goals.
Collagen helps to increase the production of glycine, which helps strengthen bones and muscles, build cartilage for joint support and provide antioxidant protection for our bodies.
Collagen helps improve circulation throughout the body, with studies showing that it can even reduce inflammation from joint pain or injury.
Supplementing with collagen can help repair tissue damage since it speeds up cell regeneration. There are many amazing benefits to consuming collagen if you're looking to get stronger bones and muscles!
Hair & Nails
Collagen is essential for healthy, strong hair and nails. It helps promote their growth and development.
Also, collagen contains unique type 1 and type 3 proteins that aid in the repair of damaged hair and nails while encouraging new, healthy growth.
The health benefits of collagen don't stop there. These same proteins stimulate cells located within the scalp that are responsible for moisturizing and improving the shine of your hair.
Collagen increases keratin production in the fingernails, keeping them from breaking or splintering as easily.
Gut Health
When it comes to gut health, collagen can be incredibly beneficial. Collagen promotes healthy digestion and immune system support.
By helping to repair the intestinal lining, collagen can promote proper nutrient absorption and stimulate better overall gut function.
Experts say that collagen has proven to help with reducing symptoms of digestive distress like leaky gut syndrome and inflammatory bowel diseases.
In supplement form, collagen can help the body maintain the levels of proteins essential for good digestion, and in certain cases, it might even reduce dysbiosis—an imbalance of bacteria that can lead to many gastrointestinal problems.
Similarities Between Collagen Serum & Hyaluronic Acid
Collagen serum and hyaluronic acid are similar in many ways. Both are commonly used to treat skin issues such as wrinkles, dryness, sensitive skin, and age spots.
Collagen serum works to reduce the appearance of wrinkles by restoring elasticity to the skin while hyaluronic acid serum provides deep hydration.
Both promote firmer and smoother-looking skin, making them essential components when it comes to preserving youthfulness.
Both collagen serum and hyaluronic acid serum have the ability to reduce inflammation, improve skin texture and promote the overall health of the skin. They can both be applied directly to the face with a cotton swab or finger and on specific problem areas.
Users can expect refresher, healthier-looking skin while reversing any signs of aging when applied regularly.
Differences Between Collagen Serum & Hyaluronic Acid
We've looked at the similarities between collagen serum and hyaluronic acid, but what are the main differences between these two amazing skincare products?
Collagen and hyaluronic acid differ in their makeup, functions, and effects on the skin.
Also, collagen is a protein made up of amino acids that help support the skin's structure. This type of serum helps plump and firm the skin, reducing signs of aging like wrinkles.
Hyaluronic acid serum is often used to revitalize the skin. It works by retaining moisture, helping keep the skin hydrated, which can reduce puffiness and the appearance of wrinkles.
While they both offer remarkable benefits to your skincare routine, it's important to consider what type of outcomes you're aiming for before choosing one or the other (or both!).
Can You Use Collagen Serum and Hyaluronic Acid Together?
Increasingly, people are taking advantage of the power of combining collagen serum and hyaluronic acid for their skincare routine, creating a synergistic effect that can result in powerful anti-aging benefits.
So, whether you're looking for a way to maintain your youthful appearance or need an extra bit of help minimizing damage due to age or overexposure to the sun, consider combining collagen serum with hyaluronic acid for long-lasting results that will leave you looking better than ever!
Can Hyaluronic Acid Replace Collagen Fillers?
One of the latest trends in skincare and anti-aging is the use of hyaluronic acid to achieve plump, youthful-looking skin.
This has made researchers consider whether it can be used as an alternative to collagen fillers, which are usually injected into specific areas of the face to add volume and improve wrinkles.
Although hyaluronic acid works differently from injectable collagen fillers, research suggests that it could offer some comparable results since its hydrating properties can keep the skin feeling smooth and looking more radiant while encouraging natural collagen production.
Ultimately, your best choice may depend on your preference—a quick procedure with temporary effects or a more gradual process with longer-lasting benefits.
The Final Say
So, can you use collagen serum and hyaluronic acid together? Yes, you absolutely can. In fact, using collagen serum alongside hyaluronic acid serum brings out the best benefits of both of these amazing skincare products!
Be sure to head over to our product page for the best options for your skincare routine. For more skincare tips and information, you'll find great resources at our Health and Anti-Aging BLOG.
---
Organixx Clean Sourced Collagens blend contains five types of collagen from four sources. What's more, it's combined with targeted nutrients such as zinc, vitamin C, and vitamin B6 which specifically enhance the bioavailability and potency of collagen. Clean Sourced Collagens is formulated from the ground up to enhance and support your body's natural ability to heal and rebuild itself from the INSIDE out.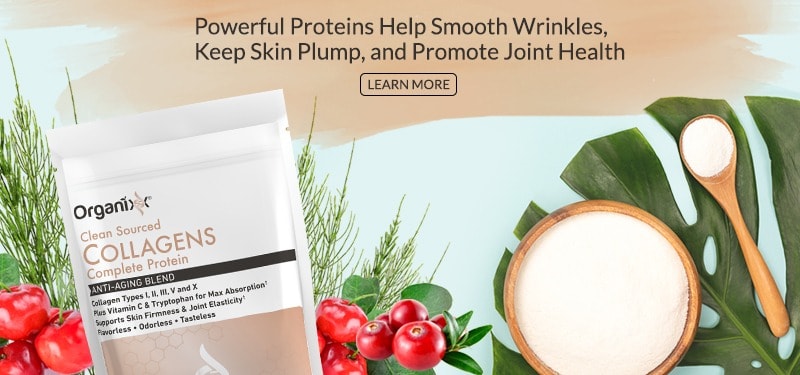 Organixx Clean Sourced Collagens blend contains five types of collagen from four sources. What's more, it's combined with targeted nutrients such as zinc, vitamin C, and vitamin B6 which specifically enhance the bioavailability and potency of collagen. Clean Sourced Collagens is formulated from the ground up to enhance and support your body's natural ability to heal and rebuild itself from the INSIDE out.