This mushroom miso soup is a simple tasty meal idea that combines the health-boosting benefits of bone broth with gut-boosting miso and the powerful health benefits of mushrooms.
For this recipe you can go with the mini portabello mushrooms as listed (or slice a regular portobello mushroom), or for even more health benefits why not try Shiitake mushrooms.
Shiitake, also known as Black Forest mushroom (scientific name Lentinula edodes) is native to Japan, Korea, and China and is one of the most popular and best studied medicinal mushrooms around today. Both fresh and dried forms of Shiitake are common ingredients in East Asian cooking.
In recent years, this exotic fungus, which grows naturally on dead and dying broad-leaf Asian oaks and beeches, is being carefully studied to understand its many health benefits. Shiitake is known to contain many potent bioactive compounds, including the polysaccharide beta-D-glucan known as "Lentinan," which has been the subject of several studies for its potential anticancer benefits. For instance, Lentinan has been approved as a complementary therapy for the treatment of gastric cancer in Japan.
Some Considerations About Soy
Miso is a paste traditionally made from fermented soy beans. There is currently much debate about the health safety of consuming products made with soy − particularly as it pertains to breast health. One common school of thought among many health experts is to avoid genetically modified (GMO) soy and any products containing "soy protein isolate" which has become a pervasive ingredient in processed foods.
On the other hand, naturally fermented soy products such as tempeh, soy sauce, and miso are generally considered safe to consume (and even beneficial) in small quantities. As miso is a fermented product, it also contains bacteria that can contribute to a healthy gut.
According to the USDA, 94% of soybeans grown in the U.S. are genetically modified. For the recipe below, look for a high quality organic miso paste. Otherwise it will more than likely be produced from genetically-modified soy.
Note that the "mello white miso" called for in the recipe is a lighter kind of miso that is fermented for a shorter time and contains less salt than traditional miso. It also has a more delicate taste than traditional miso.
Mushroom Miso Soup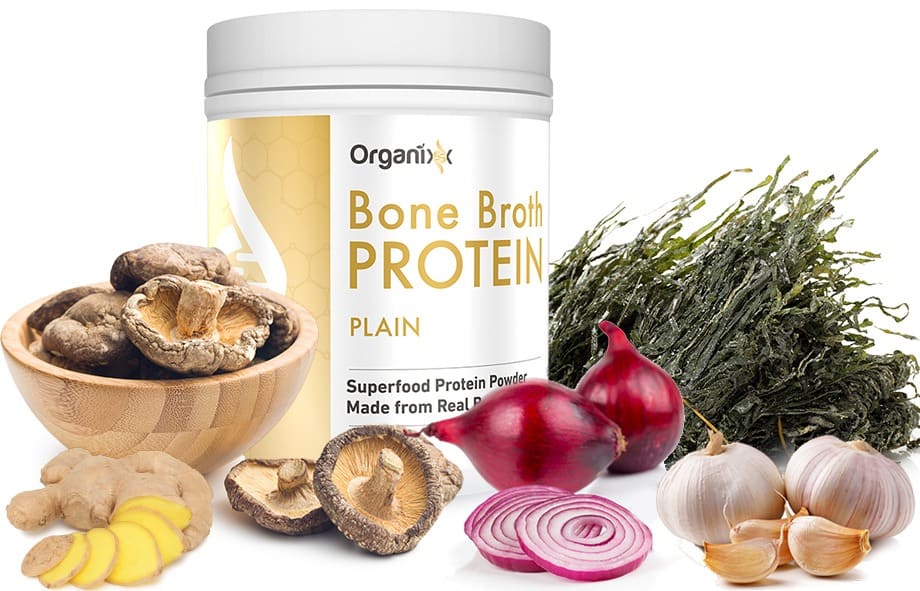 ---
4 cups chicken bone broth OR 3 scoops of pure bone broth protein powder mixed in 36 ounces water
1 cup baby portabella mushrooms OR shiitake mushrooms
1⁄2 red onion, chopped
3 cloves garlic, pressed OR minced
1 tablespoon grated ginger
1⁄4 cup dried wakame
3 tablespoons mellow white OR garbanzo miso
half-bunch scallions, chopped
---
In a medium pot over medium-high heat, bring broth to a rolling simmer. Add mushrooms, onion, garlic, ginger, and wakame. Reduce heat to medium and simmer for 15 minutes.
Reduce heat to medium-low and remove 1 1⁄2 cups of broth. Whisk broth into miso and add back to soup. Hold at low heat for 5 minutes before serving.
Remove from heat and add protein powder. Stir well.
Ladle soup into bowls and garnish with chopped scallions.
Enjoy!
---
Prep Time: 35 minutes ; Yield: 2-4 servings
For more recipe ideas using healing bone broth, download this complimentary bone broth e-book from Organixx.
For the easy way to get all the nutritional benefits of bone broth, check out Bone Broth Protein Powder from Organixx here – now USDA certified organic. 
Sources:
Paul Stamets, "MycoMedicinals: An Informational Treatise on Mushrooms", (MycoMedia Productions), 2002), 51-54.