Over the past few years savvy consumers have been wising up to the toxic dangers contained in personal care products sold in the typical grocery, drug, and department store.
These dangers include a range of harmful chemicals found in the body washes, shampoos, deodorants, hair dyes, cosmetics, and every variety of lotion and potion we've been applying to our bodies on a daily basis for years.
While it's a challenge for the average consumer to know what's safe to use and what isn't, fortunately there are some groups you can turn to for help.
The Campaign for Safe Cosmetics is a coalition of groups working to eliminate harmful chemicals in personal care products in the U.S. One of their founding members is the Environmental Working Group (EWG) which maintains an online safety database called "Skin Deep" that provides extensive information on the safest and least safe personal care products and brands.
You can visit http://www.ewg.org/skindeep to check the safety score of tens of thousands of personal care products. EWG even has a Skin Deep mobile app that you can download on your smartphone for instant access to this important information while you shop!
The Shampoo "Red" List (Don't Use Shampoo With These Ingredients)
One of the personal products that most of use weekly, if not daily, is shampoo. As it turns out, many shampoos contain chemicals that are harmful to your health. The Campaign for Safe Cosmetics includes the following 5 ingredients on their "Red" list for shampoos. These are the worst chemicals found in shampoo products that you need to avoid to protect your health.
Ethanolamines (cocamide DEA and others)
Parabens (e.g. butyl paraben)
UV filters (Octinoxate, Oxybenzone)
Formaldehyde-releasing preservatives (diazolidinyl urea, imidazolidinyl urea, DMDM hydantoin)
Sodium Laureth Sulfate and other -eth compounds, which can be contaminated with 1-4-dioxane and ethylene oxide
A Safer Alternative to Toxic Shampoos
The very best way to know what's in your personal care products is to make your own. Here's an easy essential oil shampoo recipe you can mix up at home in only a couple of minutes. It uses two essential oils that are known to benefit hair health. You can discover more about the best essential oils for hair here.
Rosemary Mint Essential Oil Shampoo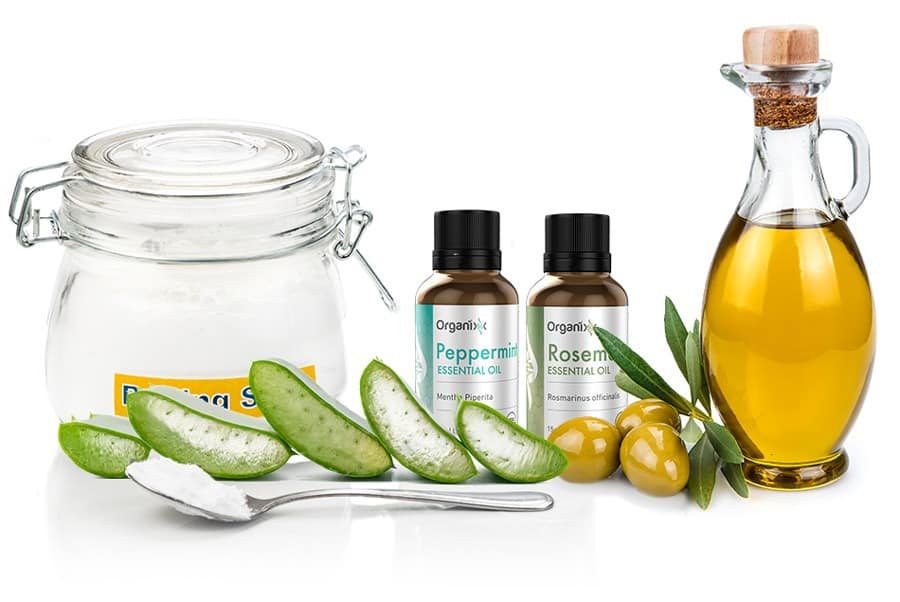 Recipe used with permission from "Essential Oils: Ancient Medicine For The Modern World" by Jordan Rubin, Dr. Josh Axe, and Ty Bollinger
---
---
In a small bowl, mix all ingredients together.
Store in an 8-ounce glass or BPA-free plastic bottle.
---
Organixx organic essential oils are made with indigenously sourced plants retrieved from the world's best sources. Visit https://organixx.com for more essential oil recipes and helpful articles.

Prep Time: 2 minutes ; Yield: 10-15 uses
Sources: