What Is Tabata and Why Is It So Popular?
In a hurry? Click here to read the Article Summary...
Interval, "Burst," or HIIT (High Intensity Interval Training) exercises are all the buzz these days. One kind of interval training is called Tabata. Tabata has actually been around for the last 20 years, but it has only recently caught fire with fitness buffs in the United States. It is now one of the most popular kinds of interval training regimens out there.
Why Interval Training Works
No doubt, you have probably heard of interval training, but you might not know the nitty-gritty of what it entails. In a nutshell, interval or "Burst" training, is a way of working out that involves combining short bursts of very intense aerobic exercise with intermittent periods of rest.
Interval training [1] is effective because by "mixing up" exercise activities and tempos, you can improve both speed and endurance in a very short time.
Basic forms of interval training are also easy for anyone to do and are especially beneficial exercises for women over 50.
Best of all, interval training saves time! A typical HIIT session usually last about 20 minutes. As you are about to discover, a Tabata session is even shorter.
According to Dr. Martin Gibala, author of The One-Minute Workout: Science Shows a Way to Get Fit That's Smarter, Faster, Shorter, in an interview for The New York Times…
That's one of the great things about interval training. It only requires that for a brief period of time, you push yourself out of your comfort zone. You don't have to reach any set percentage of heart rate or anything like that. You just need to feel some brief discomfort. You can achieve that by running hard to the next signpost when you are out on a trail or picking up the pace while you are walking…We have even shown that you can complete a very effective HIIT program in a stairwell during your lunch break [2].
Exercise Science and HIIT
Gibala is one of the fitness experts who has helped put interval training on the map in the United States. There are indeed an increasing number of scientific studies which prove Dr. Gibala's theory. An investigation conducted by the Japanese National Institute of Fitness and Sports found that high-intensity, intermittent training can improve both aerobic and anaerobic mechanisms in the body [3].
The aerobic energy system produces ATP, or Adenosine Triphosphate, a needed fuel for the body. The anaerobic system focuses on glycolysis and lactic acid production and is responsible for muscle development through citrate synthase and other mitochondrial enzyme functions [4].
These microscopic interactions in the mitochondria can improve and strengthen skeletal muscle metabolism. Proper functioning of both mechanisms is necessary for a healthy body.
Previous studies have proven that daily sprinting for two weeks straight can enhance aerobic activity but not anaerobic. A 2005 report put together by Gibala himself along with his colleagues at McMaster University in Ontario, Canada, found that interval sprinting for fewer interval sessions and including one to two days rest in between increased both aerobic and anaerobic mechanisms [5].
Tabata Training 101
Tabata was developed by Japanese scientist Izumi Tabata and his colleagues after comparing moderate-intensity training to HIIT. Popular body-building expert, author, and television personality Obi Obadike explains a typical Tabata protocol this way:
Tabata training is one of the most popular forms of high-intensity interval training. It consists of eight rounds of ultra-high-intensity exercises in a specific 20-seconds-on, 10-seconds-off interval. It may only take four minutes to complete a Tabata circuit, but those four minutes may well push your body to its absolute limit [6].
Tabata vs HIIT
To put it another way, if you want to experience the shortest of the already-short HIIT workouts as well as the most intense – Tabata was made for you. Experts suggest working out in the Tabata way four days a week for maximum benefit.
Studies conducted by Tabata himself have proven that, like all properly done HIIT training sessions, Tabata can deliver the goods. That is, it can produce both aerobic and anaerobic benefits.

Dr. Tabata began his research into the benefits of interval training in the mid-90s and many professionals and researchers, including Gibala, have based their work on his research.
In fact, Tabata is still conducting research to find the "lowest possible intensity" which can still wield the incredible benefits he has demonstrated with his previous studies [7].
What Are Good Tabata Exercises?
Type of movement matters with Tabata as well. If you want to do Tabata the way Izumi Tabata intended it, you would choose one movement only and focus on that for 4 minutes – with 20 seconds on and 10 seconds resting, for a total of 8 repetitions.
Obadike and others, however, are mixing it up a bit to include different kinds of movements in a 4-minute session.
Examples of movements one could do in a Tabata regime would be mountain climbers, high knee jogging, air squats or "overhead slams" with a safe, weighted object.
"If you're not absolutely toast after those four minutes, you didn't go hard enough," says Obadike. Indeed, a Tabata session is only a few minutes, but by the end of those few minutes, you should be sweating!
Who Can Do Tabata?
Burst or Interval training can be done, really, by anyone of any agility level or weight, allowing for some modifications.
Many interval training sessions can go up to 20 minutes and some, especially for beginners or those who need to take it slow, can incorporate moderate exercise into the "burst" part of the routine as they build up to eventually going all out. An example of this would be fast walking for 3 minutes followed by very slow walking for one minute, for a total of 5 repetitions.
In fact, there is new evidence to suggest that HIIT may help those with chronic disease as well [8]. A 2016 Danish study of interval trainers with type 2 diabetes showed that interval training helped balance blood glucose levels better than longer, moderate exercise [9].
And any HIIT workout, including Tabata-style routines, can be done using methods of movement you may already be doing. Want to give Tabata-style swimming a try? Go full-bore down the lane for 20 seconds, then slow it down to a back float for 10 second. Repeat this 8 times.
Finally, use common sense when it comes to Tabata or any other form of interval training. Any HIIT workout will be intense, since it is designed to get your blood pumping. If you have an existing medical concern or it's been a while since you have exercised, however, be sure to consult with your health care professional before you embark.
Then set the tone for a workout that is going to be challenging, but not debilitating, for YOU, with the intention of working up to a faster routine as you progress. Before you know it, you will be on your way to a better, more energized you!
---
Organixx Clean Sourced Collagens blend contains five types of collagen from four sources. What's more, it's combined with targeted nutrients such as zinc, vitamin C, and vitamin B6 which specifically enhance the bioavailability and potency of collagen. Clean Sourced Collagens is formulated from the ground up to enhance and support your body's natural ability to heal and rebuild itself from the INSIDE out.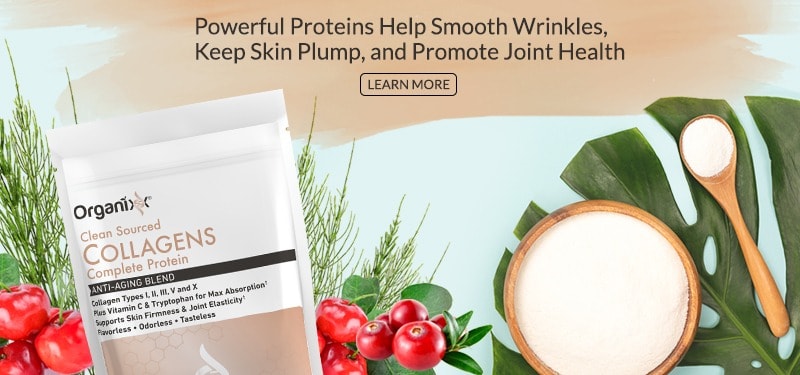 Sources:
Article Summary
HIIT (High-Intensity Interval Training) can improve both aerobic and anaerobic mechanisms in the body.

HIIT "mixes up" exercise activities and tempos, which can improve both your speed and endurance in a compressed time.

New evidence suggests that HIIT may help those suffering from chronic diseases.

Tabata is a specific type of HIIT training developed over 20 years ago by Japanese scientist Izumi Tabata and his colleagues.

Tabata training consists of eight rounds of ultra-high-intensity exercises in a specific 20-seconds-on, 10-seconds-off interval.

Anyone of any agility or weight level can practice HIIT, but it is essential to know your boundaries and to use common sense.