Reading Time:
7
minutes
Did our ancient ancestors know that bone broth was good for the digestive tract? They must have on some level since long before science was even "a thing," they were cooking bones and gristle over an open fire to extract the nutritious elixirs inside.
These days researchers are discovering the direct reasons why bone broth for gut health is so valuable, including benefits for the immune system and just about everything else in the body.
If you've ever wondered "does bone broth really heal the gut?"… read on for 6 important ways that bone broth is good news for your gut AND your whole body!
Reason #1: Collagen
Let's start with the most obvious reason why you're hearing a lot more about bone broth for gut health these days… bone broth is a huge source of at least 3 types of collagen.
Collagen type 1 is the most abundant kind of collagen found in the bones and bodies of mammals, and thus in bone broth.
Not only is type 1 collagen essential for creating nails, hair, skin, and bones, it's also found in high amounts in the digestive tract – and for good reason. This type of collagen is what the lining of our intestines, in large part, is made of.
The body uses type 1 collagen, in particular, for maintaining, repairing, and healing the intestinal lining. As far back as the early 1980s, researchers were discovering the power of collagen type 1 for repairing mucosal linings as well as rebalancing gastric juices in the stomach [1].
In 2012, a Brazilian team found that a combination of whey protein and collagen supplementation protected the GI tract against ulcerative lesions [2].
Type 2 collagen helps to build protein molecules in cartilage. It's also highly beneficial, which is why you want to include joint bones in your broth if you make healing bone broth at home.
Finally, type 3 collagen can be thought of as a "helper substance" for collagen type 1. It's found in large quantities everywhere type 1 can be found, including in the intestines.
Reason #2: Essential Amino Acids
In 2017, a study sponsored in part by the University of New Mexico's School of Medicine in Albuquerque showed that people with certain digestive conditions, such as irritable bowel syndrome (IBS), maintain lower levels of amino acid levels in general [3]. The researchers also postulated that increasing amino acid content through food and supplementation could help digestive symptoms.
Bone broth contains many key amino acids that add another layer of healing for your gut. Both glycine and proline are amino acids found in bone broth that are essentials for brain and gut health [4].
Proline has been found to benefit lymph tissue in the gut as well as support intestinal healing [5].
Glycine is intricately involved in digestive health as well. It helps to maintain the correct acidity levels in the digestive tract and assists in the breakdown of fatty acids from food [6].
Reason #3: Glutamine
One of the superstar amino acids for gut health is glutamine (also called L-glutamine). Another reason why bone broth is so amazing for healing digestion is that it contains high concentrations of this substance.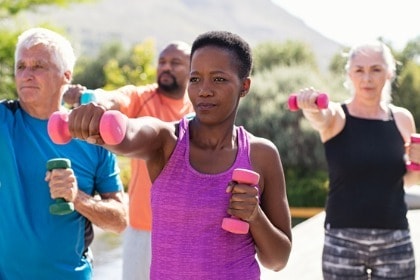 The body requires approximately 20 essential amino acids to create the proteins which allow your body to function in a healthy way. L-Glutamine is one of these essential amino acids and is typically the most abundant amino acid in your system.
Approximately 60% of the skeletal muscle of the body is made up of glutamine and it's important for brain and muscle health as well. The body can make it endogenously (originating internally) and it's also found in food. Sadly, however, most people in the modern world are deficient in glutamine.
A 2017 study conducted at Rouen University Hospital in Rouen, France, found that:
"Glutamine supplementation can improve gut barrier function in several experimental conditions of injury and in some clinical situations [7]."
The researchers also noted that glutamine and other substances found in bone broth are beneficial for overall digestion.
Reason #4: Anti-Inflammatory Properties
Many compounds found in bone broth are anti-inflammatory, which can be of big benefit if you're suffering from conditions such as diverticulitis, IBS, or Crohn's disease [8].
Gelatin is one substance in bone broth that has been found to help calm inflammation. Gelatin is a simple substance but its power for healing lies in its ability to retain water. Ingesting gelatin in bone broth can provide another protective layer to your intestinal lining that can seal the gut and keep pathogenic (disease-causing) microbes at bay.
A 2012 Italian study discovered that both gelatin and glycine found in bone broth can reduce the inflammation that pro-inflammatory lipopolysaccharides (LPSs) are known to cause [9]. LPSs are located on the outer parts of harmful gram-negative bacteria.
(Gram-negative bacteria are often responsible for infections in healthcare settings and include Klebsiella, Acinetobacter, Pseudomonas aeruginosa, and E. coli, among many others.)
Another interesting study conducted by the Nebraska Medical Center took their cue from long-held traditional beliefs in chicken soup's ability to "cure the common cold" and other respiratory infections.
These researchers found that both the chicken stock and the vegetable components of the soup contained substances that would cause this effect, but that the chicken stock's anti-inflammatory components were of particular importance. In in vitro investigations, researchers found that substances in the stock, in particular, had the ability to inhibit the growth of neutrophils – pro-inflammatory immune system cells.
Reason # 5: Bone Broth for Leaky Gut & Improved Immunity
If you suffer from "leaky gut" (intestinal permeability), those mechanisms that are supposed to be protecting your digestive system from the rest of your body begin to break down.
"Tight junctions" as well as intestinal components called Glycosaminoglycans (or GAGS), which help form the tissue fibers of the intestinal lining, become defective. This allows pathogens to breach intestinal barriers, cause inflammation, and wreak havoc on your system.
Remember that up to 80% of all your immune system cells rest in the upper intestinal area of the digestive system. The connection between gut health and immune health has been confirmed by many studies over the last few decades. Likewise, the link between leaky gut and autoimmune disease has been firmly established [10].
Bone broth contains high levels of GAGs and helps to "heal and seal" the intestinal lining and heal leaky gut. When you heal the intestines, you naturally strengthen the immune system as well.
Reason #6: Vitamins & Minerals
Finally, bone broth contains dozens of other substances, including essential vitamins and minerals that are beneficial for not only the gut but for the vibrant functioning of the entire body [11].
Just some of the vitamins and minerals found in bone broth include:
Vitamin K, which assists in the healthy flourishing of beneficial bacteria in the gut and is also needed to synthesize calcium [12]
B vitamins, all of which help to stabilize the gut microbiome in different ways [13]
Magnesium, essential for maintaining gut bacteria balance [14]
Iron, also helpful for maintaining beneficial gut bacteria [15]
Vitamin C, needed for collagen synthesis
Vitamin A, which helps the immune system from becoming overactive [16]
Is Bone Broth Good for Your Gut? Yes!
Close to 70 million Americans are diagnosed with digestive conditions each year [17] – almost a quarter of the population! The good news is that there's a way to help heal digestive issues before they begin to affect your whole body, through the simple act of consuming bone broth regularly.
And if you find making healthy, healing bone broth at home a hassle, the even BETTER news is you can get organic bone broth in easy-to-use powder form.
Organixx Bone Broth Protein powder is USDA Certified Organic, free of artificial flavors and colors, and contains no gluten, dairy, soy, nuts, grain, yeast, starch, or corn. It's tested to be free of glyphosate and heavy metals and comes in three delicious and versatile flavors: Smooth Chocolate, Creamy Vanilla, and Plain.
Bone broth is truly a "superfood" that can help heal your gut and put you on the right track for optimum health. Note: if you have diagnosed gut health issues, be sure to consult with your holistic health professional for advice on how much bone broth to drink for leaky gut, acid reflux, SIBO, or IBS.
---
Organixx Clean Sourced Collagens blend contains five types of collagen from four sources. What's more, it's combined with targeted nutrients such as zinc, vitamin C, and vitamin B6 which specifically enhance the bioavailability and potency of collagen. Clean Sourced Collagens is formulated from the ground up to enhance and support your body's natural ability to heal and rebuild itself from the INSIDE out.