Physical Exercise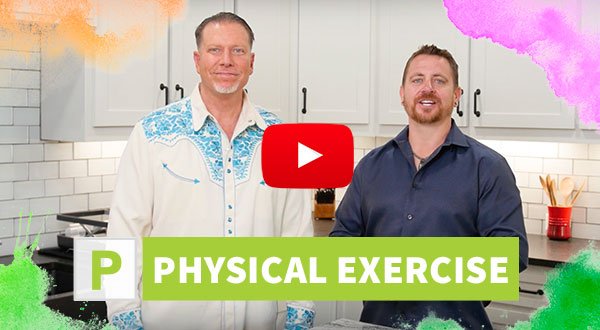 "P" Physical Exercise- INSPIRED | The 8 Pillars of Health explained by Jon & Ty
Video Transcript
Ty Bollinger: I used to be big into bodybuilding, so physical exercise has always been huge with me, but it needs to be the right kind of physical exercise.
Jonathan Hunsaker: Welcome, everyone. Jonathan Hunsaker here with Organixx, once again, with my good friend and business partner, Ty Bollinger.
Ty Bollinger: I'll have to do the handshake a little different this time.
Jonathan Hunsaker: We have to change it up, right?
Ty Bollinger: You've got to have some fun.
Jonathan Hunsaker: Keeping it interesting. Listen, we're doing a whole series of videos, talking about the 8 pillars of health, which is represented by the acronym INSPIRED. Today's letter is P.
Ty Bollinger: What do you think that the best exercise is for overall health? Not bodybuilding, not snowboarding, but just overall health… what would be the number one? It's actually jumping on a trampoline.
Jonathan Hunsaker: Rebounding.
Ty Bollinger: Rebounding. It's actually the best exercise, and the reason why rebounding is so important is because the up and down movement actually pumps your lymphatic system. Now here's the difference between your lymphatic system and your blood system.
Your blood pumps 24/7 regardless of what you do. And why is that? Because you've got a heart. Right? Your heart pumps the blood through your veins. And so, regardless of what you're doing, your blood's getting pumped.
The lymphatic system does not have a pump. If you're not moving, your lymphatic fluid is stagnant. And lymphatic fluid that's stagnant is toxic. If you're walking or if you're running, you're probably getting enough lymphatic activity where you're in good shape. This is for people that live a sedentary lifestyle. This is something that you can do once a day and you can stimulate that lymphatic activity to such an extent that you don't have to worry about having stagnant lymph.
Jonathan Hunsaker: Let's talk for a second about physical exercise, and let's talk about the stress that it introduces to the body and how that's healthy for us.
Ty Bollinger: Let's look at lifting weights specifically. You're tearing down muscles when you lift weights. That's the whole principle behind most types of exercise is that you're actually stressing the body, you're tearing it down, then you give yourself a time to rest and it grows back stronger.
Jonathan Hunsaker: The physical exercise gives you small doses of manageable stress, and then your body learns how to deal with stress better, how to process it better, and it actually becomes healthy for you, stressing your body in those ways.
Ty Bollinger: Jon, I think one of the keys to exercise is do what you like. Because if you're not doing what you like when you're exercising, you'll end up not doing it.
Jonathan Hunsaker: Listen, thanks everybody for watching. I hope you're enjoying this series. I hope that you are INSPIRED to live a healthier lifestyle. I hope these videos are inspiring you to live a healthier lifestyle. Thanks for tuning in. Thanks, Ty.
Ty Bollinger: Thanks, Jon. I appreciate it.
Jonathan Hunsaker: See you guys on the next video.
Ty Bollinger: Move your bodies!