Nutrition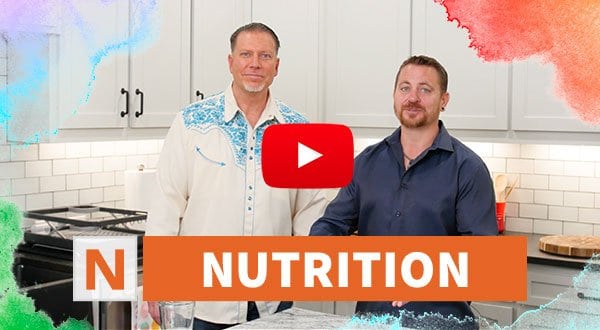 "N" Nutrition – INSPIRED | The 8 Pillars of Health explained by Jon & Ty
Video Transcript
Ty Bollinger: Nutrition is right up there at the top of what causes you to be healthy. The food choices matter. The timing of when you eat matters. Just the whole gamut revolving around nutrition, it does affect your health.
Jonathan Hunsaker: Welcome, everyone. Jonathan Hunsaker here with my good friend and business partner, Ty Bollinger.
Ty Bollinger: What's up, brother?
Jonathan Hunsaker: What's up, man? Listen, we're filming a whole series of videos for you, talking about INSPIRED, which is the 8 pillars of health. This is the video on the letter N, Nutrition.
Ty Bollinger: So, nutrition is important. Nutrition does matter. That's the reason that we have it as number two. And nutrition's not only important to maintaining good health; bad nutrition can be a road block in getting there. If you're a cancer patient that's sick, and you're going for treatment but you're eating a diet that's nourishing cancer cells, you may be sabotaging your own treatment and you don't even know it. So, nutrition definitely matters in overall health.
Jonathan Hunsaker: I mean it's really the core of everything. I'm big into dirt bikes, four-wheelers, all that kind of stuff, and I go and get the best fuel that I can to put in there because it's a no-brainer, I want them to keep running. The challenge is, is that we don't treat ourselves like the motor, right? And that our body is the engine, which we know it is. It matters what you eat. Right?
Ty Bollinger: And I think also, many people may not know what good nutrition is, right?
Jonathan Hunsaker: Absolutely.
Ty Bollinger: Because there's so many different perspectives on what good nutrition is. So, what does good nutrition mean?
The reality is, good nutrition involves getting good, clean, organic carbohydrates from fruits and vegetables. If you're going to eat meats, the protein needs to be from a clean, grass-fed cow, or free-range chicken, wild-caught fish, and so forth. And then the fats. So, then, the fats need to be clean fats. And I think that this is probably where most people are the most confused.
Getting clean fats in your diet, what does that mean? Avocado oil, coconut oil, extra virgin olive oil, butter from grass-fed cows, these are all good, high-quality fats. The fats that you're going to get if you go out to a restaurant to eat are probably not. They're what's considered to be trans fats, or hydrogenated oils.
Jonathan Hunsaker: So, if you're looking to make a change in your diet, and get healthier, just getting away from the processed junk, the chemicals, all of that stuff, and just switching to whole food is going to make – and clean. And that's what we need to do; we need to trust our bodies and really eat clean is what matters.
Ty Bollinger: Eat clean and support each other in the effort to eat clean.
Jonathan Hunsaker: Listen, guys, thank you so much for watching. We have a lot of more information on nutrition here on the site, different articles, different videos. We're going to continue to add more, so if you're looking for more information, whether it's juicing, whether it's vegan, or whole food plant based, or paleo, or keto, we're going to put it all here to decide for yourself. I'm not going to tell you how to eat.
Ty Bollinger: And no matter what you choose, we'll still like you.
Jonathan Hunsaker: Exactly. Thank you so much for watching. Ty, thanks for joining me.
Ty Bollinger: Thanks, Jon.