Physical Exercise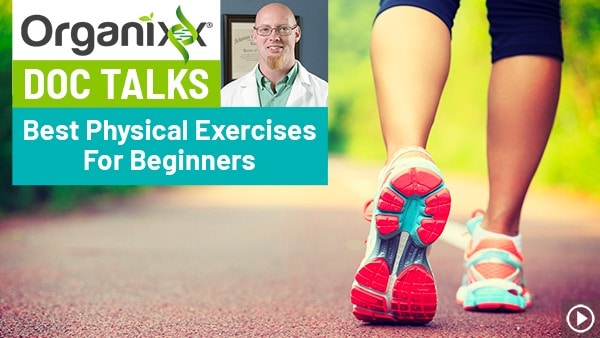 Best Physical Exercises for Beginners: "Doc Talks" with Dr. Nuzum
Video Transcript

Dr. Daniel Nuzum: So, for those of you that have been inspired by our INSPIRED videos to become physically active, we're getting all kinds of questions, "What is the best type of exercise for someone who's either never exercised, or hasn't exercised in a long time, really doesn't have the condition to go lift weights at the gym, or go play some sport, or something like that? How do you start from the very, very beginning, Doc?"
The first thing to do is start moving. Just move. Walking as an exercise for a beginner is super important. Getting those big muscles, getting your legs moving, getting the blood pumping, those are all the very first steps that have to take place in order for you to get into better condition.
I get my sedentary patients to start walking 30 minutes every other day. Then, once that half-hour walk is easy and their body has adapted and has gotten stronger, then we start talking about other exercises, like maybe some modified pushups, maybe some knee bends, and maybe some crunches, things along those lines. Maybe starting with planks.
Once we get from there, then we start talking about maybe going to the gym or doing a set exercise routine.
To recap, for someone that's been sedentary, has not been up moving around, walking half an hour every other day, that's your goal to get started and get moving, to get into better condition.
---
Did you know physical exercise is just one step on your "Journey to Wellness?" Go below to discover the other seven pillars of health and become INSPIRED this New Year!